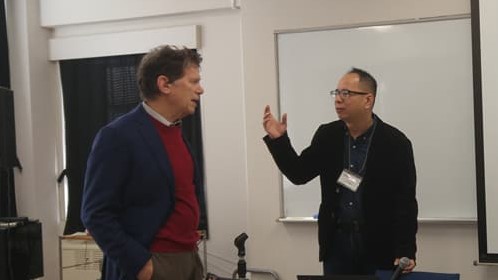 Call for Papers
International Conference: Towards Post-Media Theories in Asia
Date: 27th (Sat) -28th (Sun) January, 2018
Venue: Tokyo University of the Arts, Senju Campus, Tokyo, Japan
Organized by: Post-Media Research Network,
Graduate School of Global Arts, Tokyo University of the Arts
Confirmed Keynote Speakers:
Scott Lash (University of Oxford)
Anthony Fung (Chinese University of Hong Kong)
Alexander Zahlten (Harvard University)
Shin Mizukozhi (University of Tokyo)
The media environment has changed dramatically over the last three decades as digital technologies, in particular, the Internet and mobile terminals, increasingly play an important role in our communication, society, economy and politics. The nature of media is also transforming itself, as media is not merely a means of communication between senders and receivers any more, but an essential and inseparable part of our society, everyday life and body. Following the predictive argument Félix Guattari raised during the pre-internet period, we may call our age a 'post-media era'. Guattari optimistically hoped that a transformation of mass-media power would overcome modern subjectivity and that, in the post-media era, new collective-individual subjectivities would be appropriated by and through an interactive use of machines of information, communication, intelligence, art and culture (Guattari 1990). Now that thirty years have passed since then, we can critically re-examine the idea of post-media and try to develop post-media theories in order to understand emerging forms of power under our current social, economic, political, cultural and technological conditions.
Post-Media Theories in Asia may sound a contradiction in terms: post media theory should be by definition global, or at least, transnational beyond any geographical boundaries in the age of globalization, as new media itself is a product of transnational capitalism. Asia cannot be seen as a homogeneous entity, but as a socio-cultural imagined construction with contradictions, conflicts and disagreement within geographical mapping. While admitting the problems of utilizing the geographical term "Asia," we still believe that to think about theory and practices in and around/beyond Asia could provide a means for critically assessing conventional Euro-American oriented media studies towards more appropriate understandings of digital media ecology in the age of globalization. As a region, Asia is the largest in consumption as well as production globally; nonetheless dominant media theory is still being produced in the West. Now we have to critically examine this imbalance of knowledge production from a post-colonial perspective.
This conference also hopes to discuss the possibilities and problems of current intellectual debates around digital media studies: affective theory, cyber-feminism, software studies, platform studies, algorithmic power, speculative realism, new materialism, post-humanism, artificial intelligence, virtual reality and creative industries. It will be a space for the discussion of current political conditions in which new digital media has become deeply intertwined. Furthermore, this conference aims to provide opportunities for young scholars working in and on Asia to discuss the future of media studies in Asia.
Please submit your abstract (max. 250 words) and a short biography (max. 80 words) to Yoshitaka Mōri (postmedia.research.net@gmail.com) no later than 15 December 2017.
Language: English
We welcome individual papers as well as panels with three or four contributors.
We will notify authors of paper acceptance no later than 20 December 2017.
Organizing Committee Members:
Yoshitaka Mōri (Tokyo University of the Arts)
Mamoru Ito (Waseda University)
Kazunori Mizushima (Osaka Sagyo University)
Tomoko Shimizu (University of Tsukuba)
Shinji Oyama (Ritsumeikan University)
Takeshi Kadobayashi (Kansai University)
Satofumi Kawamura (Kanto Gakuin University)
Toshiro Mitsuoka (Tokyo Keizai University)
Sachi Komai (University of Tsukuba)
Ryosuke Hidaka (Tokyo Metropolitan University)
This project is supported by JSPS KAKENHI Grant Numbers 17H02587