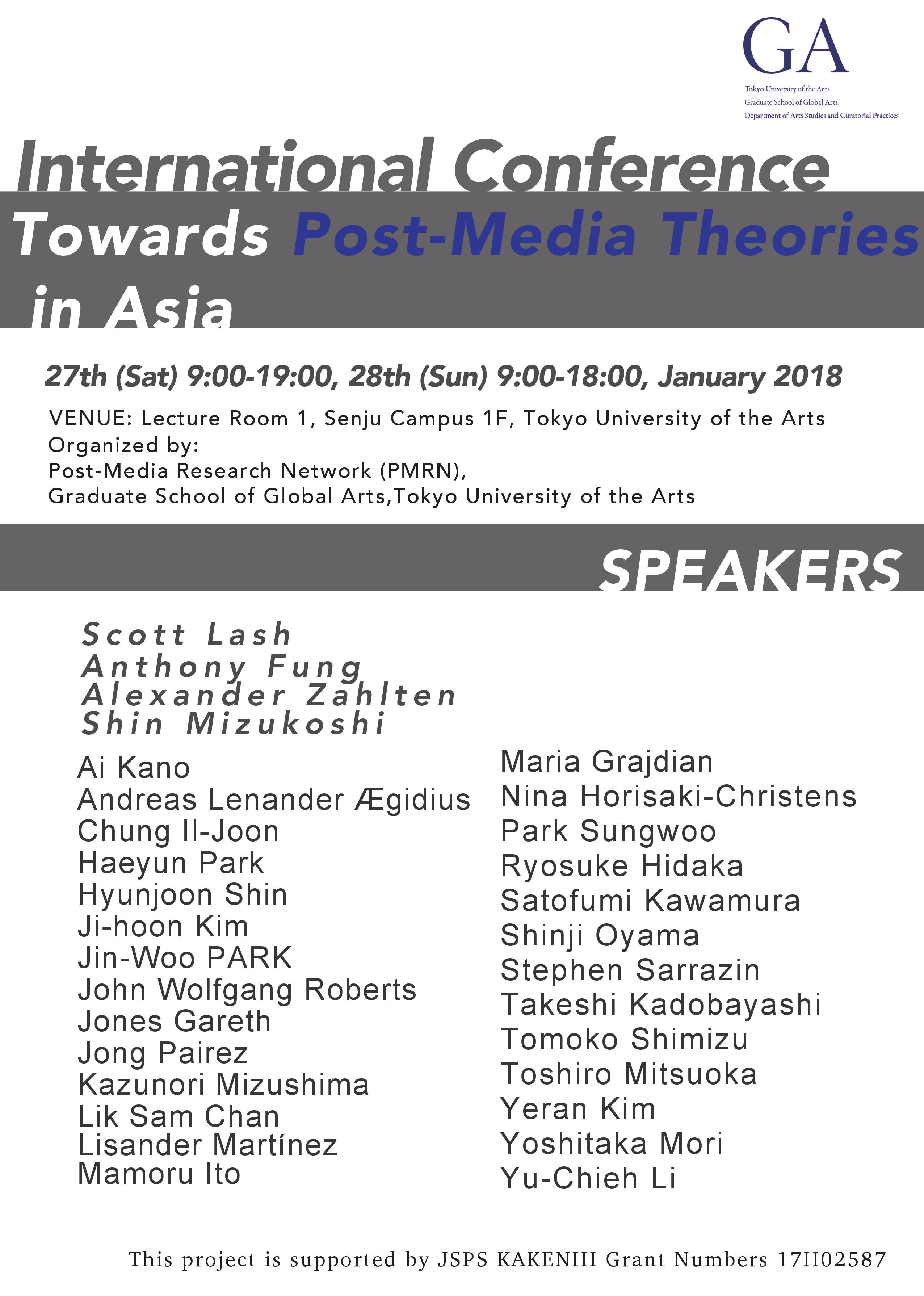 Dear all:
We are delighted to announce the list of accepted papers and panels for the conference 'Towards Post-Media Studies in Asia'. Thank you for the submission. If you have any inquiry, please be free to contact us: postmedia.research.net@gmail.com
Dear those whose paper or panel has been accepted:
As we have already asked you in the letter of acceptance we sent on 19th December, please send an-email back to us to confirm your participation no later than 28th December so that we can make a program. Thank you for your corporation.
Sincerely,
Yoshitaka Mōri, Organizing Committee, Tokyo University of the Arts
NO.
name
title
affiliation
1
Lik Sam Chan
Dating potential: The forming of desiring subjects in dating apps in contemporary China
University of Southern California
2
John Wolfgang Roberts
Metafictionality as Ethic: Affecting Change in our Narrative Ecologies
Mie University/ University of Birmingham
3
Hyunjoon Shin
The Roles of Social Media in 'Cut out' Seoul and Mobile Space-making by Young Artists in Seoul, South Korea
Sunkonghoe University
4
Maria Grajdian
Japan's Paris, or: On Humanity as Extension(s) of Media
Nagasaki University
5
Jong Pairez
Strange Connections: Radio Kosaten as a Collaborative Research
Laboratory
Tokyo University of the Arts
6
Ji-hoon Felix Kim
Contemporary East Asian Postinternet Art of the Moving Image:
Postproduction, Circulationism, and the Layers of the Global and the Local
Chung-ang University
7
Yeran Kim
Affective Network in the Popular Movement of Feminism
Kwangwoon University
8
Kuan Chee Wah
The Roles of Digital Technology in the Politics of Contentious of Malaysia
Hong Kong Baptist University
9
Jones Gareth
'Readerly Shuttlings': How New Materialism, Borrowed Scenery and a Cross-Cultural Community Walking Practice Contribute to an Attentive Engagement with the City
University of Dundee
10
Kelly Hu
Japan's AKB48 General Election, Spreadable Media and Chinese Fans Crowdfunding Campaigns
National Taiwan Normal University
11
Stephen Sarrazin
Images in exile
Ken Nakahashi Gallery
12
Andreas Lenander Ægidius
The Disappearance of Music Media – Theorizing Post-media Conditions for Control in the East Asian Music Industry.
University of Southern Denmark.
13
Lisander Martínez
Mexijuku: Mexico City's Harajuku and new Japanese identities
Tsukuba University
14
Chung Il-Joon
Candlelight Rallies in South Korea: Entwining and/or Merging of Online/Offline Protests?
Korea University
15
Park Sungwoo
Mediatization and cultural practice in Asia: with a case in Hallyu
Woosong University
16
Kano Ai
Re-finding the concept of the 'Tactical Media' in the post-media era in the terranian of Socially Engaged Art
 Tokyo University of the Arts.
17
Jin-Woo PARK
Politics and  Dispositif on the basis of Michel Foucault and Giorgio Agamben
 Konkuk University
18
Panel: Nina Horisaki-Christens et al.
Heterogeneous Voices: East Asian Video Art and Intermedia in the 1970s and 1980s
Sophia University/ Columbia University et al.